Fastest bar puller on the market
Fastest Bar Puller On The Market
Fitted onto the Part-off tool shank, the PULLEX Crocodile pulls the bar into its new cutting position instantly as the tool's retract for ATC.
Fitted together with the part-off tool
incredibly fast – clamps the bar instanteneously 

after cut-off 
Flexible design – can be ordered as a ready-to-run 

unit with tool holder or to 

fit with an existing toolholder
Compact design


– Doesn't need it's own turret station




– Very narrow – builds out very little




– Clamps very close to the chuck jaws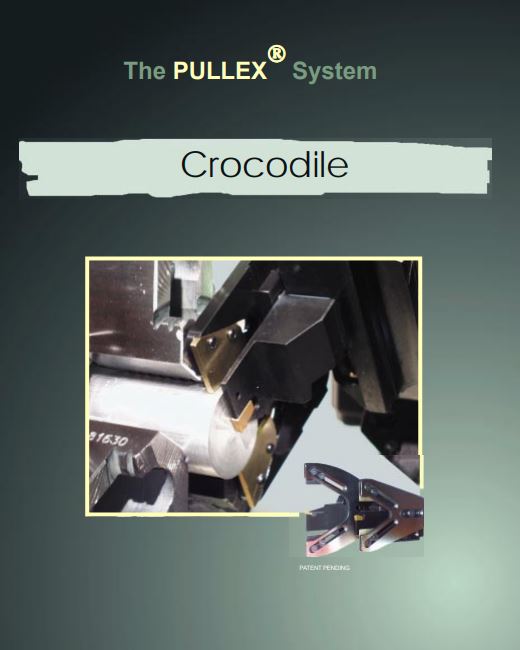 Save one day a week

You can't possibility get the work done faster than using this revolutionary Bar Puller. Pullex feeds the bar within 1.5-2 seconds to be compared with the job of a conventional Shortbar Feeder, which would take 10-15 seconds to execute the same operation. Consider a machining cycle time of 50 seconds for a work ipiece. Then you will save one day each week using Pullex..
Gripping capacity 1-60 mM
FAQ – Frequently Asked Questions 
Below you'll find the most common asked questions about Pullex. If you have any questions about Pullex or our other products please contact us.
Question: Can I use my own part-off tool together with Pullex Crocodile?
Answer: Yes. Iscar need not to to be prepared with M6 screw holes in the holder. Other manufacturers do. 
Question: Can I use both left- and right hand tools?
Answer: Yes, the same Pullex Crocodile can be used both for left and right hand tools.
Question: How do I adjust the pulling plates?
Answer: It's easy. You just adjust adjust the Pulling Plates 0.1 to 0.2 mm less that the bar diameter.
One way to adjust the pulling plates, when the Pullex Crocodile is mounted in the the machine is to use the following method:
The adjustment of pulling plates is simplified by turning a diameter of 0.1 mm to 0.2 mm less than the bar diameter. Then, the pulling plates are pushed against the turned diameter and locked in this position. This method is quick, accurate and eliminates errors originating from the turret and/or tool holder.
Turn a diameter of 0.1 to 0.2 mm less than the bar diameter.

Push the Pulling plates against the turned diameter to be locked in this position.

The clamping force achieved by the Pulling plates entering the bar is then amplified by the somewhat sagging bar at chuck unclamp, thus securing safe operation.
Question: Does Pullex works with a spring?
Answer: No, Pullex doesn't use any spring which can tear out